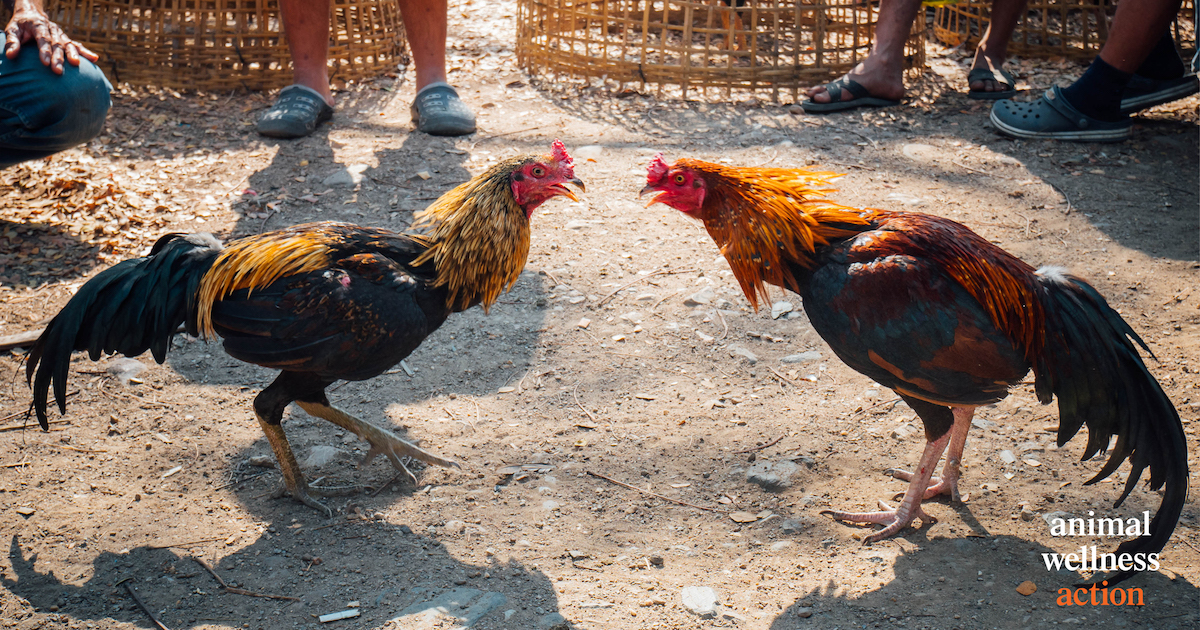 Massive Spending Bill Contains Language to Step Up Federal Enforcement of our National Anti-Cruelty Laws
Spending Bill, to be Signed Into Law by the President, Also Bans Race-Day Doping of Horses
Yesterday's $2.3 trillion legislative and spending package covering funding for the federal government for Fiscal Year 2021 and for additional COVID-19 response has much buried in it related to animal welfare.

American horses secured some important wins, most importantly with the inclusion of the Horseracing Integrity and Safety Act to end the era of same-day doping of horses. And while the spending bill omitted a landmark compromise measure to dramatically strengthen the 1970 Horse Protection Act and ban horse soring in America, the bill does double funding for the Act to allow at least some enforcement of current restrictions against the barbaric practice.

Animal Wellness Action (AWA), the Animal Wellness Foundation (AWF), and their partner organizations have been focused on enforcing the federal laws forbidding malicious animal abuse and exploitation, including the recently minted Animal Fighting law and the Preventing Animal Cruelty and Torture Act.

The spending bill includes, in the Agriculture section, an increase in $500,000 for the USDA's Office of Inspector General to enforce the federal animal fighting law. And the explanatory statement accompanying the omnibus spending bill asks the Department of Justice to step up its efforts in this regard.


"The Department shall continue to comply with Congressional direction to prioritize the investigation and prosecution of animal welfare crimes, including those under 7 U.S.C. 2156, 18 U.S.C. 48 and 49, and 49 U.S.C. 80502 [animal fighting, animal crushing, animal transportation], and to report not later than 120 days after the date of enactment of this Act on actions it is taking to enforce such laws, including case development and prosecutions based on referrals from the FBI, the U.S. Department of Agriculture Office of-Inspector General, and other Federal agencies, as well as specific training related to these types of crimes for both Departmental law enforcement and litigating components. The report shall include the number of prosecutions and seizures, broken out by litigating component and/or district, for fiscal years 2019, 2020, and 2021."
DOJ and USDA have stepped up their work in this area after we launched our anti-cruelty enforcement campaign and after key lawmakers in the House and Senate introduced the Animal Cruelty Enforcement (ACE) Act, led by Reps. Joe Neguse, D-Colo., and Matt Gaetz, R-Fla., in the House and Mike Braun, R-Ind., and Sheldon Whitehouse, D-R.I., in the Senate. We're pleased to see the feds taking their responsibility to enforce our laws against dogfighting and cockfighting so seriously.
The introduction of the ACE Act in both chambers also comes in the wake of seven recent state- and territory-based investigations by our team of illegal trafficking of animals for fighting, exposing syndicates collectively selling tens of thousands of animals across the world for fighting pits. That investigation started when we examined live-animal import records from the Guam Department of Agriculture and detailed more than 500 illegal shipments by 60 state-side cockfighters over the last three years.

In Kentucky, Oklahoma, and some other states where these cockfighters operate from, they maintain farms with thousands of fighting birds, neatly arranged in rows with each bird tethered to an A-frame hut, being trained and readied for shipment around the world. The cockfighters are so unabashed that dozens of them recently allowed a Philippines-based broadcaster, BNTV, to do promotional videos with them, where they boast of the "cutting" abilities of their birds who may be sold into the World Slasher Derby and other major cockfighting venues in the Asian nation.

When you look at dogfighting, bestiality, and other malicious forms of cruelty, you begin to recognize that animal abuse is just one part of a matrix of lawlessness and a lack of empathy. There is a significant connection between animal cruelty and violence against humans, including domestic violence, child exploitation, sexual abuse, gang activity, drug trafficking, and other crimes. Dogfighting and cockfighting almost always involve illegal gambling, while the illegal movement of fighting birds has been tied to outbreaks of avian influenza, which is both an animal health threat and a zoonotic disease threat.

One recently shuttered website, BeastForum.com, connected people with an interest in bestiality and had 1.2 million users before being shut down. Bestiality is banned in 46 states and it is now a federal crime under the PACT Act. Other websites have popped up with the same networking content.

A recent outbreak in California of Virulent Newcastle Disease, which is suspected of originating in fighting birds, has cost the federal and state government more than $100 million to contain and resulted in the killing of more than a million animals as a means of arresting its progress.

AWA and the Animal Wellness Foundation are excited to work with lawmakers in Congress, and staff at DOJ, USDA, and other federal agencies to make animal cruelty enforcement a priority and to enable strategic action to combat cruelty. These illegal and immoral practices deserve our full attention and, as our investigations document, federal law enforcers have a target-rich environment in which to work.

Take action here by urging your senators to support the Animal Cruelty Enforcement Act.