Cockfights Occured after AWA Publicly Exposed the "Grand Opening" of January Cockfighting Scheme At "Dededo Game Club" 
WASHINGTON, D.C. — In the wake of Animal Wellness Action (AWA) obtaining a secret schedule of cockfighting derbies planned for "The Dome" in Dededo starting on New Year's Day, the organization's president, Wayne Pacelle, reported that drone surveillance picked up cockfighting activity at The Dome this weekend.
"The Dome and the surrounding grounds were quiet during daylight hours, but there were crowds and trucks and cars both Saturday and Sunday night at The Dome," noted Pacelle. "The brazen disregard for the law continues, but so does our documenting of these animal cruelty crimes. In the end, this is not going to turn out well for people involved in these crimes."
A source within the cockfighting community shared the schedule with AWA, and the animal welfare group released the schedule to the public in the first half of December. The biggest outlays of cash were planned for Saturdays, with each entrant in a three-cock derby required to pay $600 into the pot, and with smaller pots for fights on Wednesdays, Fridays, and Sundays.
"There were many fewer cars and people than during my visit to the Dome for a Saturday night cockfighting two years ago on the eve of the federal law taking effect," added Pacelle.  "But still it's remarkable that the cockfighters are openly engaging in acts of felony-level animal cruelty and think they are above the law."
The Congress amended the Animal Fighting law specifically to extend all federal prohibitions against cockfighting to Guam, Puerto Rico, and the other territories. Cockfighting interests challenged the constitutionality of the law and lost. The U.S. Court of Appeals for the Ninth Circuit just two weeks ago ruled that the United States engaged in a proper exercise of its authority in imposing the ban, upholding a Guam-based U.S. District Court ruling. Earlier this year, the U.S. Supreme Court let stand a unanimous ruling from the U.S. Court of Appeals for the First Circuit affirming that cockfighting is a crime everywhere in the country.
AWA and Animal Wellness Foundation (AWF) obtained shipping records from the Guam Department of Agriculture revealing mass shipments of fighting birds also in violation of federal law. Shipments of fighting birds increased 600 percent from 2020 to 2021.
"Guam citizens are reaching out to Animal Wellness Action and providing details about additional fighting venues on the island and they are also sharing footage of individuals involved in illegal fights," added Pacelle. "We are sorting through the evidence and will share more information about these operations soon."
Meanwhile, AWA encourages Guam residents to continue to provide tips, footage, and other intelligence about illegal animal fighting to the organization's dedicated anonymous email: animalcrueltytips@animalwellnessaction.org.
It has been illegal since 2002, and a felony since 2007, to transport or sell roosters for fighting across state or territorial lines. It has been a federal felony since December 2019 to operate a fighting pit or to participate in an animal fight in the territories.
On November 19th, 36 Members of Congress wrote to the U.S. Postal Inspection Serviceand urged them to crack down on shipments of fighting animals through the U.S. mails, citing the brisk trade to Guam in their letter. A copy of the letter is available here.
AWA and AWF maintain www.EndCockfighting.org, which serves as a comprehensive resource about the subject and an action center for citizens who want to help combat animal crimes.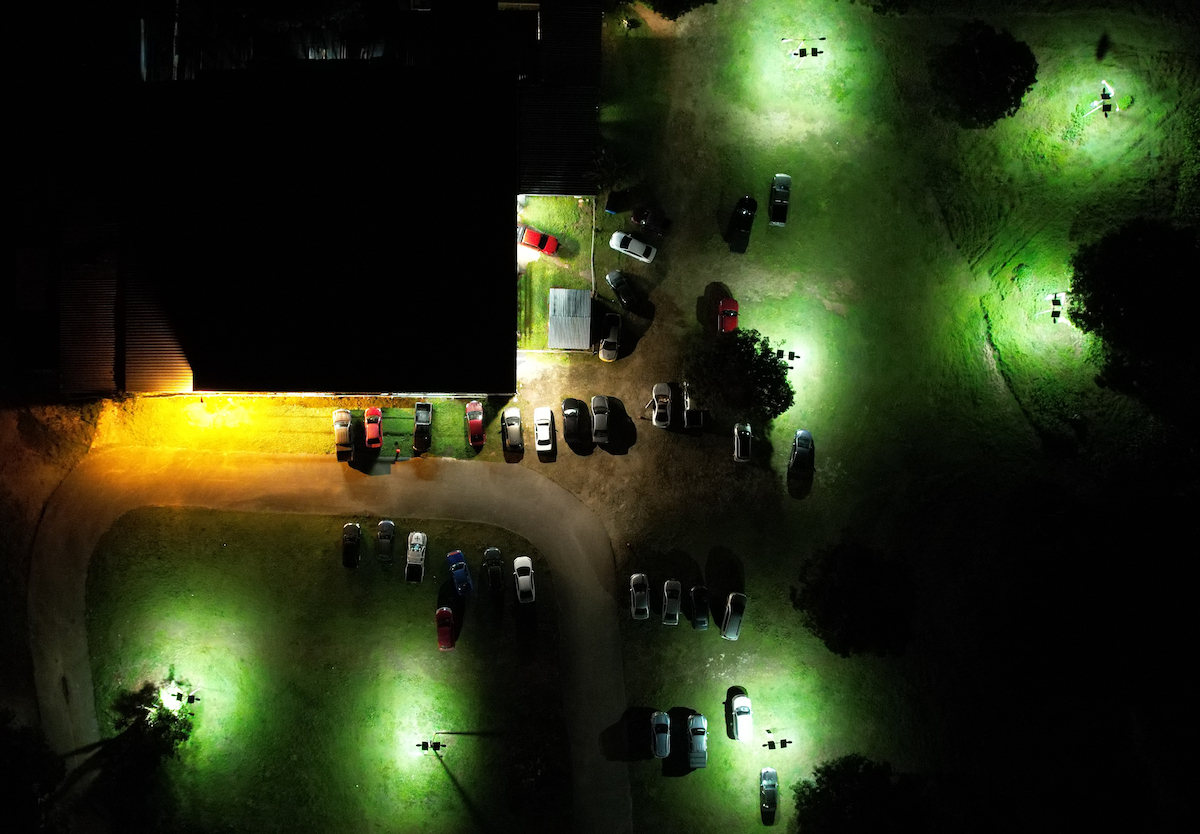 Aerial image taken from an AWA drone of The Dome, the major cockfighting arena on Guam, on Saturday night, January 1st.
Animal Wellness Action (Action) is a Washington, D.C.-based 501(c)(4) organization with a mission of helping animals by promoting legal standards forbidding cruelty. We champion causes that alleviate the suffering of companion animals, farm animals, and wildlife. We advocate for policies to stop dogfighting and cockfighting and other forms of malicious cruelty and to confront factory farming and other systemic forms of animal exploitation. To prevent cruelty, we promote enacting good public policies and we work to enforce those policies. To enact good laws, we must elect good lawmakers, and that's why we remind voters which candidates care about our issues and which ones don't. We believe helping animals helps us all.